Pinecrest Swim Club Membership
Pinecrest membership is divided into 3 types with each having 4 categories.
The 3 types are Current Active Member, New Member, Trial Member. Current Active Members are full stock owners. New Members are buying stock either all at once or over 3 years. Trial Members pay reduced dues with no stock for 1 year only.

The 4 categories are Family, Single, Couple, Senior. Family membership includes family members living in same household(a tax dependent). Single member must be at least 19 years old or high school garduate. Couple members must be a couple living in same household. Senior members must be at least 55 years of age by May 1, 2024.

Dues paid before Dec. 1, 2023 receive $50 discount for Current and New Member types. Dues may be paid through our member management system eSoft Planner, Login and click Memberships. Through eSoft Planner you can pay by credit card or mail check. Also, can click membership download here and mail in with payment.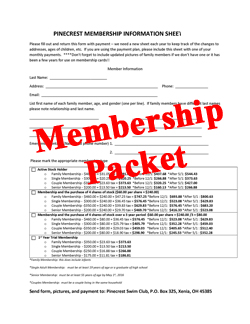 ---
Please Support Our Sponsors
---